True Leaf Pet is a Canadian-based manufacturer of functional hemp-based dog chews.
The True Hemp Chews products were developed by True Leaf and are available in Canada as TRUE LOVE™, TRUE SPIRIT™ and TRUE CALM™.
The product line contain non-GMO, grain-free chews featuring natural source antioxidants, omega fatty acids, plant-based active ingredients and Canadian-grown hemp.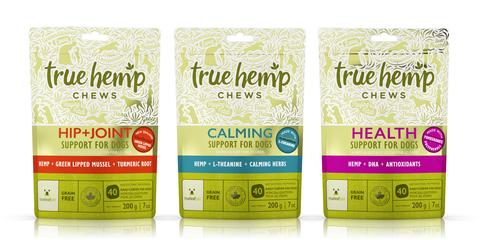 Darcy Bomford, President and CEO of the True Leaf Medicine International Inc. explained that the brand refresh for all three formulations to TRUE HEMP™ emphasizes the importance of hemp as the primary active ingredient. "Hemp is the main functional ingredient for each formula and is a source of omega fatty acids, gamma linolenic acid and other substances known to support the body's response to inflammation," he said.
"What really sets us apart from the crowd is not only our Canadian-sourced hemp, but also the other functional ingredients we use to boost its effectiveness," he said. "We've created three fantastic new formulas that live up to our 'Quality of Life' focus with hemp, plus green lipped mussel from New Zealand, turmeric root extract, chamomile, pomegranate extract and other innovative ingredients to support joint function, calming and overall good health."
For more information, please visit the TrueLeafPet.Com website
Click here to find retail outlets near you.
---
By Marijuana.Ca Staff