Imagine for a moment an elegant, silky smooth chocolate – avocado mousse with a rich nutty crust made with hemp hearts and topped with fresh fruit.  Sound good?  Well then, I encourage you to try this recipe.  It is stunning!
I made this dessert for a dinner party and it was a hit.  It required no baking and the preparation time is approximately 30 minutes.
The recipe is versatile, and can be easily be adjusted according to taste.  Everyone has different sweetness levels they enjoy, so the maple syrup in the filling can be increased or decreased according to taste or health requirements.  As any good chef will tell you, "Taste everything, and adjust accordingly to your preference." (I added more maple syrup to the filling than the recipe called for.  This was simply according to my personal taste.  Yours may very well be different.)
Delicious silky smooth texture and taste is not the only thing this dessert offers, believe it or not, it is also has health benefits.  This dessert is vegan, loaded with good fats, proteins, antioxidants and vitamins.  And, to top it off, this recipe can also be made with marijuana oil and used to medicate a variety of ailments.  Now that's a magic dessert.
This outstanding recipe is part of a collection of 30+ recipes that can be found in a cookbook called, The Wellness Soldier, "Cooking with Cannabis".  Veteran, Chef and Marijuana Advocate, Cody Lindsay is the man behind the Wellness Soldier, which takes a holistic approach to health and wellness by providing programs such as Clean Eating, Fitness, Meditation, and Medical Marijuana to Canadian Veterans.
No Bake Chocolate-Avocado Mousse Recipe:
(The recipe below calls for cannabis oil, which can easily be omitted depending on preference.)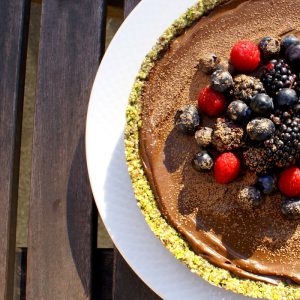 Ingredients
For Crust
2/3 Cup Peace Naturals Hemp Hearts
8 Pitted Dates
1 Cup Quick Cooking Oats
2/3 Cup Pistachio's (Unsalted)
2 Tbsp Maple Syrup
1ml Cannabis Oil (or required dosage)
For Filling
2 Avocado's (Large)
½ Cup Cacao Powder
4 Tbsp Maple Syrup
1 Tbsp Coconut Cream
2 tsp Vanilla Extract
Pinch of Salt
Directions
For Crust
Place all ingredients in a food processor and mix until well incorporated and able to hold shape when pressed together.
Press into the bottom of a spring form pan and form your crust.
Set crust aside for filling.
For Filling
Place all ingredients in a food processor
Turn on food processor and incorporate all ingredients
Taste, season, taste
Place mixture into crust, and refrigerate for 1 hour prior to serving
Serve, Eat Well, and Be Happy
Peace Naturals Functional Foods
The hemp hearts used in this recipe are from the Peace Naturals Functional Foods product line.
I have tried the quinoa, hemp hearts and chia.  They are all outstanding products.
The hemp hearts where perfect in the chocolate-avocado mousse recipe.  Nutrition never tasted so good.
We thank Cody Lindsay for the recipe.
This recipe was tested in the Marijuana.Ca kitchen by Tara Singh.